Research
Beating the Winter Blues : Employee Engagement Report
How companies can ensure year-round employee performance and engagement
Improving people performance whilst maintaining employee satisfaction and retention is a year-round job. However, different times of the year present unique challenges that require additional thought and effort.
Winter, especially the run up to Christmas and the start of a new year, can be a particularly challenging time.
The distractions and extra life-admin of the festive season, followed by the January blues and a long wait for Spring, can put even the best of us to the test when it comes to giving 100% at work.
However, this is exactly when effective employee engagement is most needed.
The Most Wonderful Time Of The Year (To Boost Employee Engagement)
Winter is a crucial time for many businesses – the few months that can shape the rest of the year. At this time, people are your most important asset.
All things being equal, customers will favour the brand that delivers the best customer service. Therefore, having a truly motivated and engaged customer support team is vital. After all…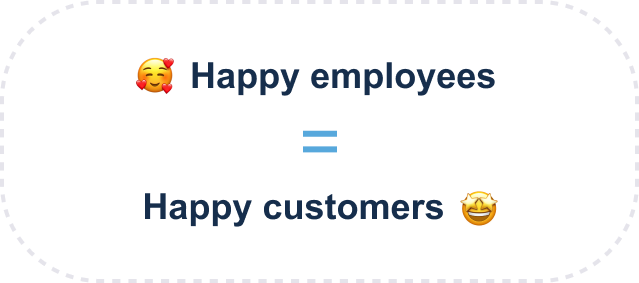 It's also a time when customers will put you to the test. Either because they are engaging with you for the first time, or because they need you to come through for them (getting a present delivered on time or resolving their complaint smoothly and efficiently).
It's typically a very emotive time of year for customers, and how you perform may affect your reputation for years to come.
To help guide customer support teams seeking to improve performance and beat the winter blues, we've tracked experiences from 1,000 workplaces across the UK.
Gauging the significance of the winter period and assessing the best ways employers can make a flying start to the new year.
About EvaluAgent
EvaluAgent is a cloud-based quality and improvement platform that provides customer support and sales teams with the tools they need to engage, motivate and empower their people.
Powered by AI, EvaluAgent makes it easy to evaluate performance, produce detailed reports, and quickly highlight opportunities for employee improvement, without the need for complex spreadsheets or management reports. This enables businesses to ensure that their customers consistently get the best service and that their contact centres and agents are meeting all regulatory and quality standards.
Launched in 2012, EvaluAgent supports more than 11,000 users in a variety of sectors including financial services, insurance, utilities and housing.
With ever-expanding international reach and product vision, it works with businesses based in the United Kingdom, United States, South Africa, the Philippines, Australia and New Zealand, as well as across Europe
Beating The Winter Blues – The Struggle Is Real!
For any company wanting to boost performance and motivation over this crucial period, the numbers make worrying reading.
70% of customer support workers admit that December and January are their least productive working months of the year.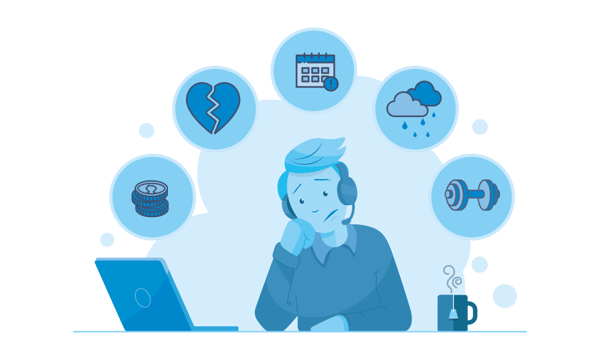 For just under 1 in 3 (30%) the distractions of December get in the way. Christmas lists, buying presents, and over-indulging at parties all prevent some of us from being at our most effective.
However, an even larger issue is the back-to-work blues. 40% of us that say getting up to speed in January is our biggest challenge as we look for motivation and renewed purpose.
Comparatively, the rest of the year is a breeze!
As the chart shows, investment in employee motivation over winter is where it pays real dividends and sets the tone for the year ahead, because happy employees = happy customers.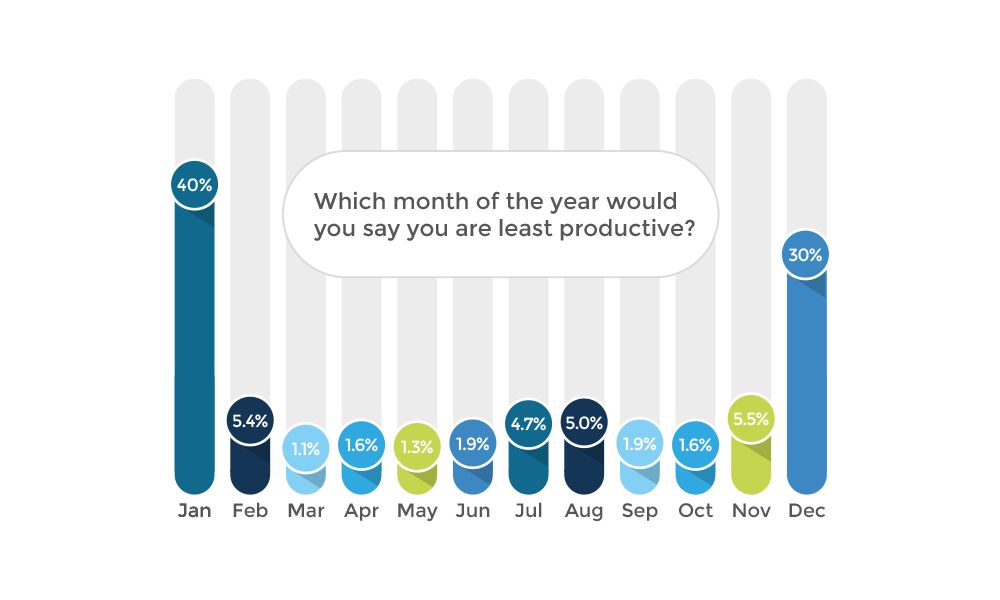 Young families under the most pressure
Looking at who is most at risk of a seasonal slump in performance, it seems to hit hardest with workers most likely to have children at home. When asked if the standard of customer service provided to their customers dipped over peak seasonal periods, those aged between 25 to 34 and 35 to 44 admitted to being most susceptible, with over a third (34%) saying they struggled to maintain their normal standard.

The added pressures of creating Christmas costumes and attending the school nativity could well be having an impact on people's performance in December, while returning to work in January can take even more of an emotional toll when it means being separated from young children and getting back into school routines.
IT, Health and Retail see largest seasonal dips
The sector results showed a similar story: none were immune to seasonal dips in performance. However, the issue is most acute for IT, health and retail sectors. With IT more than twice as likely to see a seasonal dip in customer service levels compared to the best performing organisations, which were in the public sector.
Productivity and Employee Churn
Why Beating the Blues is Essential to Success
We analysed the impact of this phenomenon on business performance to show why it's a such a crucial time for boosting employee motivation and engagement.
In our sample, 83% of workplaces experienced at least one detrimental impact from the lack of customer service employee engagement at the start of the new year.
These take a multitude of forms, all of which can cause serious harm to a company's bottom line and reputation if not challenged.
Significant numbers of workplaces say that January is a difficult month because…
40% said that people in their workplace were less happy in January than other months
35% said staff were less engaged
30% said staff were more likely to leave
26% said customers were less happy
24% said customer service was at its lowest level
14% received the most customer complaints
All of these issues are inter-related. Reduced productivity = more strain on all workers = reduced customer service = more customer complaints = less happy workers = more staff departures.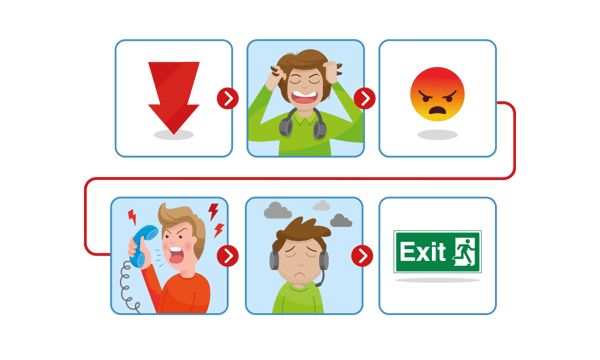 However, every cloud has a silver lining. Companies that successfully challenge these winter blues can change this negative spiral and gain a significant head start on their competitors as they enter the new year.
The size of the prize – the financial impact of year-round employee engagement
Here are just two ways in which tackling these problems can impact positively on the bottom line.
Staff Retention: an estimated saving of £31,500 per 100 workers in tackling seasonal brain drain
The cost of employee churn is high. Not only is there the cost of recruitment, but also reduced productivity when the person's expertise is lost. The Society for Human Resource Management estimates this cost as 30% to 50% of that person's salary (more if they are a senior member of the team).
Using the average customer support worker annual salary of £21,000, that's an estimated, average cost to the business of £6,300 per team departure (30% of the total).
The recruitment firm Monster estimates average employee churn at 15% – 15 people per 100 per year.
We know from our research that January is a key tipping point in people deciding to stay or leave a business – 39% say this is the month when they are most likely to start looking for a new job. If we assume it is when 5 of these 15 make their decision, then the potential of convincing them to remain is worth £31,500 per 100 employees.
Productivity: the equivalent of 4 extra full-time staff per month (per 100 workers)
We know that 40% of customer support workers admit to being at their least productive in January. Let's assume that each of the 40% workers drops their productivity by 10% over that period*.
For every 100 customer service employees in that company, that's the equivalent of operating with 4 fewer people in January – putting extra strain on other team members and letting down customers and negatively impacting your brand and sales
Taking the average customer service employee's monthly salary as £1,750 over the 2 months – that's a wasted salary of £12,250 for every 100 people in your business.
Given how many businesses take on seasonal staff to help with increased demand, it might simply be that employers are paying to plug a motivation gap rather than a shortage in resource.
Imagine having 3 or 4 more members of staff added into your business, for free, over your busiest months – that's the opportunity of maximising seasonal motivation.
* University of Warwick research found that unhappy workers are 10% less productive and happy workers are 12% more productive.
How to beat the Winter Blues
Our study reveals that most of us need a little help and support to keep focused at work at this time of year; 75% of people said that they struggle to stay motivated and need a little assistance to remain engaged.
Money isn't everything (or enough)
All too often, employers use financial incentives as the sole solution for overcoming issues such as a seasonal slump.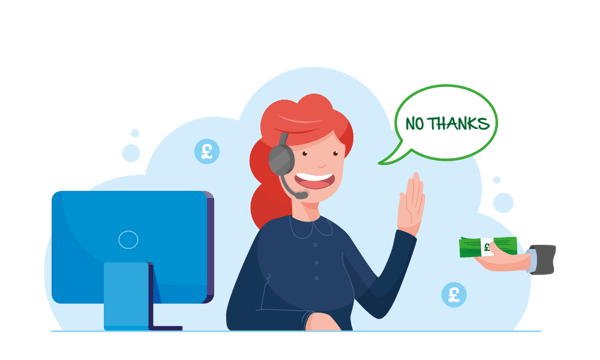 However, companies that seek to solve motivation and retention issues with money alone are destined to be disappointed (and less profitable)
In fact, 47% of our survey said that money wouldn't affect their decision as to whether to stay or leave their company in January
To engage your workforce it's crucial to use the full spectrum of tools at your disposal. This is especially true for younger age groups. Despite being amongst the lowest paid in a workforce, they are the hardest to engage through money, with the majority of 18 to 24-year olds in our study (59%) saying that money isn't an effective motivation.
The tried-and-tested, business-as-usual methods are no longer enough according to our sample. 85% of people thought their employer should do more to improve employee motivation and engagement.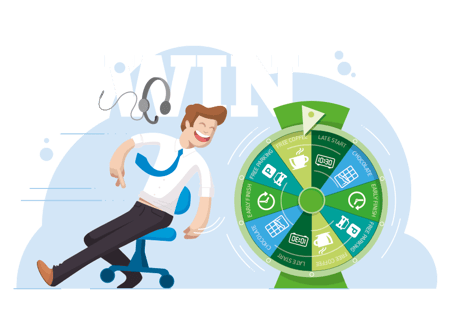 So, what works?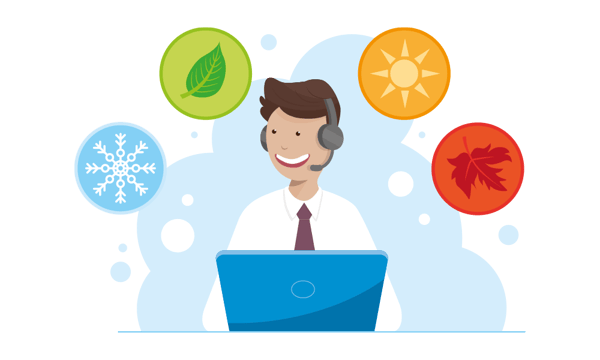 The most effective means to improve employee motivation and satisfaction levels and tackle seasonal slumps in performance are…
Provide regular and timely feedback
Non-financial rewards
Employee benefits such as Flexi-time
Goal based objectives
Team engagement initiative
Provide regular and timely feedback: simply keeping the lines of communication open and providing useful, relevant and constructive feedback is the most powerful and cost-effective tool at your disposal. In our survey this was found to be as effective as a cash bonus.
Non-Financial Rewards: schemes that award treats or other incentives for a job well done. Once again, the simple act of acknowledgement and praise is as powerful without the financial value.
Employee Benefits such as Flexitime: helping people to improve their quality of life and create more balance between home and work also scored very highly. Especially at Christmas time, being able to take time for the school nativity or enjoy a winter lie-in, can be a powerful way to help someone manage their own motivation and performance.
Goal-based Objectives: workers said that they like to work towards targets and know whether they had achieved a measure of success in their day. Simple additions increase a person's sense of purpose and pride. In our study, just under a quarter (24%) said this would be enough to make them reconsider looking for a new job.
Team Engagement Initiatives Such as League Tables and Gamification: whilst these may not appeal to everyone, for those with a keen sense of competition they can help improve focus and job satisfaction. A common sight within many contact centres, these scored particularly highly with younger workers, with a third (33%) of 18 to 24 year olds and just under a quarter of 25 to 34 year olds (23%) saying this would prevent them leaving their employer.
Find out more about games and activities to improve employee engagement here.
By Tom Palmer
Tom is EvaluAgent's Head of Digital and takes the lead on developing and implementing our digital and content management strategies which results in creating a compelling, digital-first customer marketing experience.
Related Articles